U.S. Chamber of Commerce Awards the Central Fort Bend Chamber with 5-Star Accreditation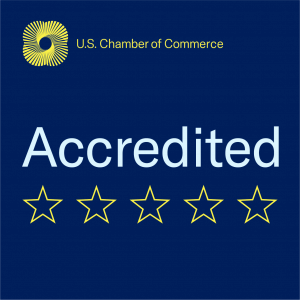 On March 2, 2023, the U.S. Chamber of Commerce awarded the Central Fort Bend Chamber with its designation of Accredited with 5 Stars for its sound policies, effective organizational procedures, and positive impact on the community.
"Accreditation is a tremendous accomplishment." said Raymond P. Towle, U.S. Chamber Vice President, Federation Relations and IOM.  "Earning this prestigious designation sets chambers apart in the industry and shines a light on the impactful work this organization is doing on behalf of its members and local business community."
The purpose of the U.S. Chamber's Accreditation Program is to facilitate continuing excellence in the chamber industry and to foster a pro-business environment across America. In order to receive Accreditation, a chamber must meet minimum standards in their operations and programs, including areas of governance, government affairs, communications, and technology. This extensive self-review can take 6-9 months to complete.
"We are honored to be awarded 5-Star Accreditation status. For over 10 months, we put in hours upon hours of hard work, had multitudes of thought-provoking conversations, researched best practices and refined our policies, procedures and program of work to make sure that your Chamber followed the highest standards set by the U.S. Chamber of Commerce," regarded Kristin Weiss, IOM, President & CEO of the Central Fort Bend Chamber. "We are now among the top three percent (3%) of Chamber of Commerce in the country and one of 137 Chamber with 5-Star Accreditation in the US."
Local chambers are rated Accredited, 3-Stars, 4-Stars, or 5-Stars. State chambers are recognized as either Accredited State Chamber or Accredited State Chamber with Distinction. The final determination is made by the Accrediting Board, a committee of U.S. Chamber board members.